Frederick Thomas Miniken
Flight Sergeant (Pilot) Frederick Thomas Miniken, Service Number 903047 Royal Air Force Volunteer Reserve.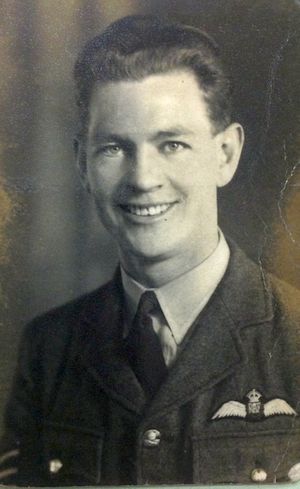 Frederick was born 29 July 1916, son of George and Winnie Miniken who lived in Parklands, Back Lane, Great Bromley in 1939. He married Constance Louisa May Herbert from Clacton on 21 May 1941 at East Bergholt church. As they left the church the sound of a bomber scattered the congregation but it was Fred's crew at very low level who opened their bomb bay and showered the village with confetti of some sort.
On 6th Jan 1942 Frederick was piloting Vickers Wellington L7863 on a training flight from Newmarket, Suffolk, when an engine caught fire on take-off, and in attempted forced landing the plane hit an embankment and building. There were 8 fatalities from the 10 occupants:
Pilot: Flt/Sgt 903047 Frederick Thomas Miniken (25) RAFVR killed.
Wop: Sgt 1200354 Reginald Alfred Butcher (29) RAFVR killed.
Wop/AG: Sgt 1169609 Gerald Geoffrey Cornes (20) RAFVR killed.
Flt/Mech: AC1 1037647 Thomas Menzies (38) RAFVR killed.
Wop/AG: Sgt 983072 John Philpin Williams (26) RAFVR killed.
AG: Sgt 643058 Anthony John Browne RAF killed.
AG: Sgt 615644 Albert David Matthews (22) RAF killed.
AG: Sgt 545778 Herbert Wolstenholme (22) RAF killed.
Wop: Sgt M.T. Coon injured.
Wop: Sgt R.H.W. Lawrence injured.
The Chelmsford Chronicle reported: "GREAT BROMLEY. KILLED ON ACTIVE SERVICE. Flight- Sergt. Frederick Thomas Miniken, killed on active service, was the son of Mr. and Mrs. G. F. Miniken, of Parkfield, Great Bromley. Before the war Flight-Sergt. Miniken was well known as a boxer and boxing instructor. He was married last May to Miss Connie Herbert, of Clacton. The funeral took place at St. Paul's Church, Clacton. The coffin was borne into the church by airmen."
He was buried at Plot R, Grave 70 of Clacton Cemetery. Connie did receive good news a couple of months later but it was not until 8 months after he died that their son (also named Fred) was born. Frederick had been promoted shortly before he died but the paperwork had not gone through in time for Connie to receive an officer's pension.
Refs:
Correspondence from Frederick's son, Fred Miniken, and Tony Lenton, nephew of Sgt Browne.
Air Force Casualties: http://www.rafcommands.com/database/wardead/details.php?qnum=94431
Findagrave: https://www.findagrave.com/memorial/118308127/frederick-thomas-miniken