Social Badminton Club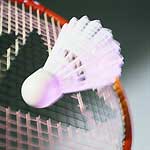 The Great Bromley Social Badminton Club is closed until further notice.
Ordinarily, Tracy Sutherland is running the club on Tuesday evenings from 6-7.30. Her contact number is 07747197856.
History
Although there had been a Badminton Club in the village after WW2, it had not been running for several years when the Club restarted began in the 1960s. Stourdale Youth Centre in Manningtree used to run a Youth Club on Monday evenings in our Village Hall and when numbers began to dwindle a group of players from Manningtree started to use the main room for badminton. As the number of people attending Youth Club declined they decided to play badminton instead and thereafter Monday nights became Badminton Night rather than Youth Club.
After several years, Stourdale decided to cut back on the groups in outlying villages and the Badminton Club became independent. In the early 1970s there were so many members that they played two evenings, but numbers dwindled until there were only the occasional Club Nights but with league matches on most Mondays.
The competitive club had folded before 2013 when the social badminton club started up to make use of the facilities.